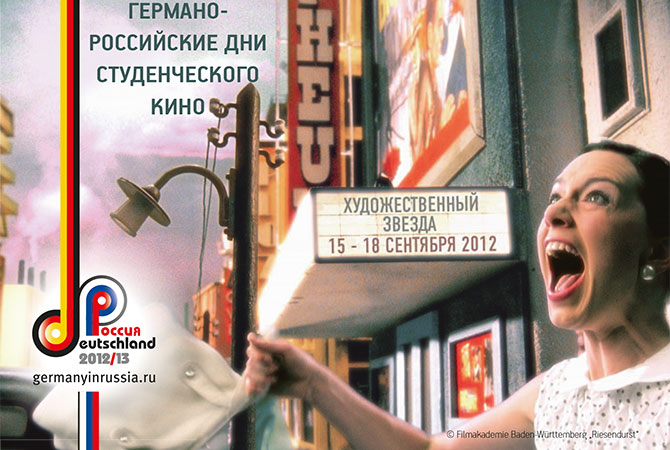 Project:
In 2012 within the framework of The Year of Germany in Russia, The Days of Student Film were held for the first time and became a unique platform for exchange between young filmmakers of both countries. The leading film schools of Germany sent their students to Moscow to take part in master classes, discussions and the sharing of experience with their Russian colleagues. A three-day screening of the best student film works in the theaters of Moscow became the culmination point of this program. The objective of this project was the strengthening of ties between young filmmakers of Russia and Germany.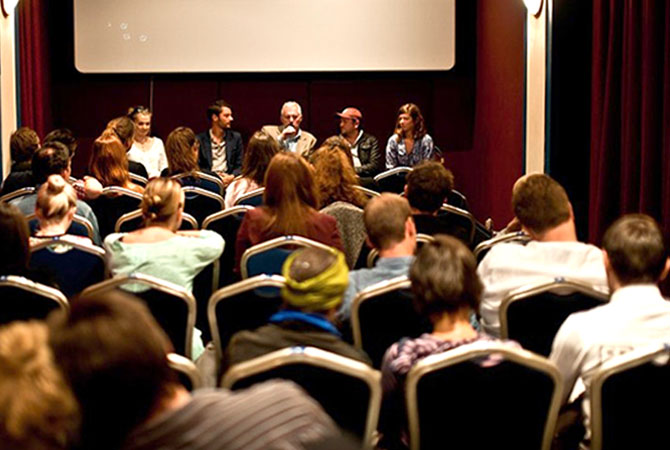 Objectives:
Leonenko & Kuniß GbR agency was responsible for the organization and coordination of the Russian-German student exchange within this project. Anna Leonenko took upon herself the production of film screenings, the organization and execution of the presentations of the German Student Film Festival, discussions and master classes, the logistics of the German delegation's travels to Moscow, the development and actualization of the advertising and PR campaigns as well as the translation of subtitles to selected films and the balance of finances.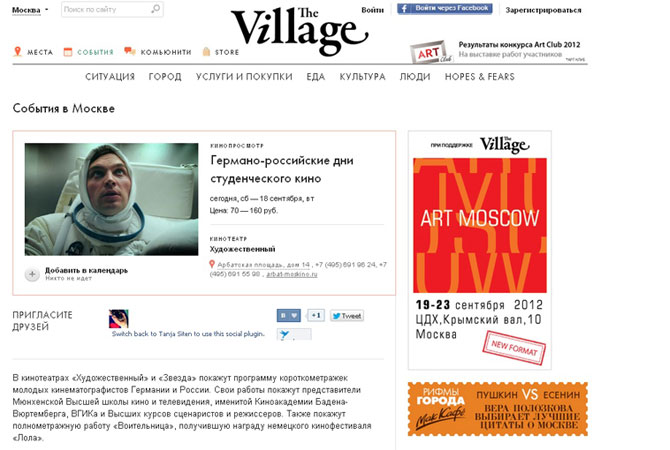 Results:
Thirty works of young filmmakers from Germany and Russia were screened during The Days of Student Film. The audience actively participated in the discussions with young filmmakers after the screenings. German-Russian Student Film Days got a big response in the Russian media. Federal news sources such as RBK, Kommersant, Vlast', Interfax, Kulture TV channel as well as the most important Moscow independent print media, radio and TV sources such as Afisha, Vechernyaya Moscva and Radio Maximum regularly covered the program of The Days of Student Film. As was expected, ties of partnership between Russian and German highest film education institutions were strengthened greatly as an outcome of this project. Russian students have paid back the visit and attended German master classes in Berlin.
The concept and execution of the project: Interkultura Kommunikation – Leonenko & Kuniß GbR || Partners: Academy of Cinema Arts of Baden-Wurtenberg | Film University Babelsberg Konrad Wolf, Potsdam | University of Television and Film, Munich | VGIK, Moscow | Higher Courses for Script Writers and Directors, Moscow || With the support of: Geothe Institute, Moscow | The Ministry of Foreign Affairs of Germany || Context: The Year of German Culture in Russia || Category: Film || Activities: Concept | Fundraising | Management of the project | Advertising & PR | Travel arrangements | Subtitles || Location: Moscow || Time period: 2012 || Team: Anna Leonenko | Julia Kuniß | Tatiana Sitnikova | Tatiana Ilichenko | Katharina Januschewski | Jevgenia Gerzovskaja